Sam Lee Mohan, Founder & CEO at Global Business Consultants, 3 min read
"On the Battlefield and In the Boardroom"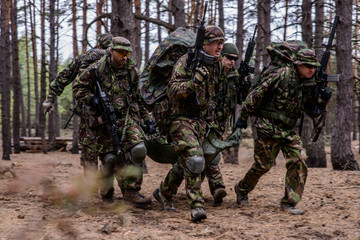 I was recently at a small business owners conference in Western Australia. There were over 100 small business owners whom gathered yearly to share their wisdom and experiences. These small business owners ran retail outlets, manufacturing companies, engineering firms, mining companies; consulting services etc., …you get the picture. These were a very diverse set of business owners with an abundance of experience. I love these events as people with such passion for business, success and people would meet and openly discuss their challenges and the tactics they've used to overcome them. Now these conferences would last a few hours with guest speakers and lots of opportunity to network.
The guest speakers are always great. They would often present for 15 minutes on topics that revolved around "Leadership" and "Planning for Success". At this event, I was privileged enough to sit-in on a presentation by Bob Hunter. Bob is an ex-SAS soldier turned management consultant. Many Australians will remember the Australian Army's worst peace time disaster tragedy that struck on June 12, 1996. For those of you don't know the story, here's a short précis. Bob Hunter was the commanding officer when tragedy struck, killing 18 men in his regiment.
In June 1996, during a black hawk training exercise near Townsville two black hawk helicopters collided mid-air and crashed. The SAS were carrying out a night-time counter-terrorism training operation, in preparation for the upcoming 2000 Sydney Olympics. This tragic incident goes down as one of the worst peace-time disasters. So, you can understand my enthusiasm listening to Bob Hunter give a motivational speech on strategy and specifically on "Values".
Bob is passionate, a born leader. He is loud and commands authority. You can image this ex-SAS soldier in a suite barking orders at you…albeit those orders were being well received by his audience. Bob went on to explain why the SAS was successful as a unit. He explained that trust, loyalty, respect, consistency are values that would become the glue that held his unit together. Later, when Bob and his colleagues became security consultants, these values would mean the difference between success and failure of a $30 million contract. This great man went to share with us how they pulled-off a $30M project with a handful of ex-soldiers in the Middle East. Bob was awarded a $30M contract and a near impossible task to transport voting ballot papers out of the Middle East.
I asked Bob, "What was his strategy?" Bobs strategy was simple. He called upon men that shared the same values, his ex-soldier buddy's, that he did. He knew he could trust them and they trusted him and each other. The trust that they had for each other was personified by the values that they have come to learn and live by in the SAS. These values were who they were and it was how they lived. They trusted each other so there was zero inefficiency in the execution of their strategy bound by the values that held so dear. Everyone executed their task with perfection knowing that every time a hand-over was required, the task will continue flawlessly. His team would then hire a Russian plane to fly them in and every single ballot paper, out of the country. Bob and his team completed this contract without any issues. His strategy was sound. He's execution was flawless.
Bob laboured the point that values in a team are fundamental to success – as was with his team and a $30M contract. Organisational values that stems from team values drives organisational culture. When values are derived at the highest level in an organisation, it must be embedded within executives and cascaded equally to the lowest level in the organisation. Values are not worth doing if you do not live by them. It will mean the difference between success and failure.
Sam Lee Mohan
Founder & CEO at GBC

Why not download our eBook today and start your journey to success. An essential guide to strategic planning.

Looking for Strategic Planning Software…why not try our awesome Strategic Planning Software for Free!

FREQUENTLY ASKED QUESTIONS
Why do I need to fill out the information requested?
We will always keep your personal information safe. We ask for your information in exchange for a valuable resource to (a) improve your browsing experience by personalising the GBC site to your needs; (b) send information to you that we think may be of interest to you by email or other means; (c) send you marketing communications that we think may be of value to you. You can read more about our privacy policy here.
Is this really free?
Absolutely. Just sharing some experience that we hope you'll find useful. Keep us in mind next time you have strategic planning questions.