Sam Lee Mohan, Founder & CEO at GBC, 3 min read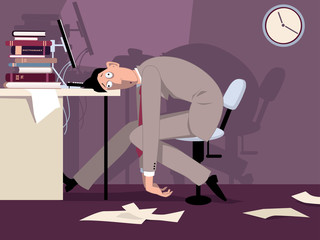 Long-hours is an exception…Not the Rule
I've been to a few events lately. Some events I present on strategy and leadership and others I attend as a guest. Whilst at these events, I also try to catch as many of the other presentations. I tend to listen to at least three presentations and then talk to at least five or six entrepreneurs and managers. I really enjoy attending and speaking at these events however, lately there appears to be a common theme that's starting to manifest and it disturbs me.
Lately, several speakers and managers are bragging about the long hours they spend in the office and their lack of sleep, talking to their audiences about their 100 plus hour work-weeks. One entrepreneur said "it's alright for some" when responding to a colleague's short vacation – hinting that he never takes a break. He went on to brag that he had not been on holiday for five years…FIVE YEARS! The message became very clear that unless you're spending all day, every day at it – you're never going to achieve your goals. The message to young entrepreneurs and budding leaders is that long hours is what it takes to be successful. Now interestingly, I do not believe that these speakers understand what success really looks like. Okay, granted, success looks differently for every person. So, for me success is when I can help others achieve their dreams and when I'm doing what I love. To achieve success, I believe it revolves around three things: love your family, work your ass off (not long hours) and live your passion. Back to the speakers; I even heard comments like "the workload never ends" and "hustle at all cost". Does that cost mean family, friends, and your life?
So here's what concerns me. As I attend more of these events, I meet and see a growing number young entrepreneurs and budding leaders. I think this message is harmful. Not only to the individuals but the business as well. Tired managers make bad decisions. Sleep deprived people function poorly – you do more harm to yourself and the people around you. There's plenty of research and evidence out there to support my claim. Surely, all-work-and-no-play is just plain right stupid.
Don't get me wrong, I think and know from experience, that when you're starting out you got to give everything. Work longer hours than usual, spend weekends and public holidays working but that's a different message. That's a point in time requirement and it's not meant to be a way-of-working or a philosophy. I often find that when I'm tired, I cut corners. The quality of my work drops, so at that point, I know that I need to rest. I'd shut down my computer and I'm off to bed.
When your business is mature, there will be other times when you should work the long hours. Emergencies that could harm your business or deadlines that just cannot be moved. It's my belief that these circumstances are merely exceptions and by no means – the rule. Working yourself sick, losing friends and family on the way is harmful and doesn't make you successful.
Sam Lee Mohan, CEO & Founder at GBC


Start your own consulting business and Partner With Us. Retain 100% of all your profits.

Try our most innovative strategic planning software to empower your business to grow & unlock its true potential. StratPlan is free to try!

Download of essential eBook to Guiding Strategic Thinking In Your Business for free!

FREQUENTLY ASKED QUESTIONS
Why do I need to fill out the information requested?
We will always keep your personal information safe. We ask for your information in exchange for a valuable resource to (a) improve your browsing experience by personalising the GBC site to your needs; (b) send information to you that we think may be of interest to you by email or other means; (c) send you marketing communications that we think may be of value to you. You can read more about our privacy policy here.
Is this really free?
Absolutely. Just sharing some experience that we hope you'll find useful. Keep us in mind next time you have strategic planning questions.