Karen, Strategy Specialist at GBC, 3 min read
The GBC team is ecstatic to announce that ONCE AGAIN we have been awarded the Rising Star Award and the Great User Experience Award for 2017 from CompareCamp.com. Not only was StratPlan featured on the reputable software review site but received these extremely prestigious awards as well.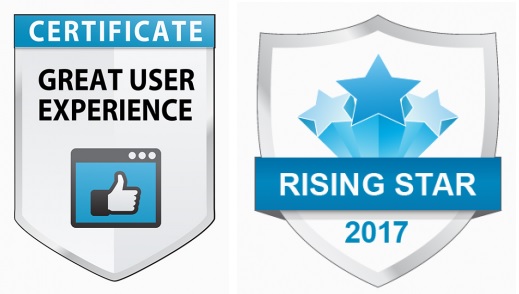 CompareCamp.com's team of experts worked diligently to evaluate every product featured on their website. According to their experts, StratPlan scored high across all fields. CompareCamp.com has created their behaviour-based Customer Satisfaction Algorithm. This algorithm determines customer satisfaction by looking at customer reviews, comments, and reviews across social media platforms. Their algorithm revealed our user satisfaction score is 83% – we are ecstatic about that?
The review highlighted the immense benefits that StratPlan has to offer. Not only, is StratPlan an affordable solution but also delivers high quantity at the highest quality strategic planning. As discussed in the review, StratPlan is extremely user friendly and provides extensive information about each and every analytical tool. StratPlan empowers business owners, managers and CEO's in an affordable way to grow their business and unlock its true potential by providing quality strategic planning in days…not months. Additionally, the reviews from our users suggest that our service improves efficiency immediately.
Overall, the experts at CompareCamp.com agreed that StratPlan is an effective solution for small and medium sized businesses in any industry.
Final Thoughts
When crafting your business growth strategy consider StratPlan to enable effective, affordable and simple strategic planning.
Try our most innovative strategic planning software to empower your business to grow & unlock its true potential. StratPlan is free to try!

Looking To Start Your Own Consulting Business? Partner With Us and run your own consulting business the way you want to, working the hours you want to!

 Download our eBook "How To Start a Million Dollar Company In Four Steps"
Download of essential eBook to Guiding Strategic Thinking In Your Business for free!

FREQUENTLY ASKED QUESTIONS
Why do I need to fill out the information requested?
We will always keep your personal information safe. We ask for your information in exchange for a valuable resource to (a) improve your browsing experience by personalising the GBC site to your needs; (b) send information to you that we think may be of interest to you by email or other means; (c) send you marketing communications that we think may be of value to you. You can read more about our privacy policy here.
Is this really free?
Absolutely. Just sharing some experience that we hope you'll find useful. Keep us in mind next time you have strategic planning questions.